Emesent Named Leader in Mine Safety and Health Technology
Emesent's drone autonomy and mapping payload, Hovermap ST, has won the 2022 NIOSH Mine Safety and Health Technology Innovation Awards for the metal industry sector.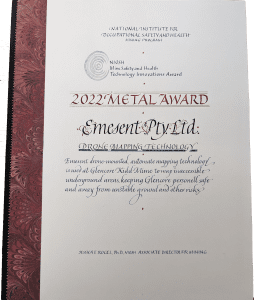 Chosen by the selection committee in recognition of Hovermap ST's contribution to advancing mine worker safety. A contribution that was proven in an example from Glencore Kidd mine, situated outside Timms, Ontario, Canada.
At Glencore Kidd mine, Hovermap is used by surveyors and geotechnical engineers almost daily to monitor deformation, detect and manage geotechnical hazards within stopes and drifts, and increase their knowledge of the rock mass and ground control conditions. Data is captured using the Hovermap in multiple scanning modes – walking, drone, vehicle, and remote ground robot scans.
"The first time we flew Hovermap into one of our deepest and most inaccessible stopes, we got a complete picture with no shadows. The resultant point cloud data perfectly showed the areas we were concerned about. Hovermap has become the go-to technology for our survey and geotechnical teams as we seek to safely maximize output." Iain McKillip, Manager Mine Technical Services, Kidd Operations.
The awards, held by The US National Institute for Occupational Safety and Health, are presented in conjunction with the National Mining Association and the US Office of Surface Mining Reclamation and Enforcement.
Conducted annually, the awards recognize mines and companies that have made extraordinary efforts to apply or produce technology to improve processes above and beyond mandatory requirements to improve mine worker safety and health.
Hovermap ST was awarded the winner by the selection committee as it exemplifies innovative qualities and provides significant advancements to enhance mine safety. Hovermap ST uses LiDAR data and advanced algorithms to generate accurate 3D point clouds of the scanned environment, as well as to automate drone flight even when GPS is not available.
Mounted to a drone, Hovermap ST is able to fly into inaccessible areas, such as stopes, drawpoints, orepasses, and drives, to capture shadowless, high quality point cloud data that is sent to the operator in real-time while they remain safely away from the brow. With thousands of hours of autonomous flight logged by customers, it is the most proven LiDAR mapping and autonomy solution for GPS-denied environments, such as mines.
"Underground mining is inherently dangerous. Reducing as much of that risk as possible through personnel placement and monitoring ground support throughout the mine is imperative to ensure safety," said Jim Stuart, Emesent CRO.
"With Hovermap ST, we provide mine operators with a means to maintain an accurate and current understanding of the status of their mines. Hovermap ST delivers a fast and accurate method of capturing this information, reducing operational delays. Its autonomy increases personnel safety by removing the need for them to access the more hazardous areas".
Emesent and Hovermap have gained a solid reputation as safety enablers in other GPS-denied environments. Hovermap was part of the technology used by the team that placed second in the US Defense Advanced Research Project Agency (DARPA) SubTerranean Challenge, a challenge designed to develop robot fleets that can autonomously traverse dangerous, GPS-denied areas and obtain a situational awareness before humans are required to enter.
It is also being used by NASA's Jet Propulsion Laboratory in their project exploring the caves in Lava Beds National Monument, in California, with the ultimate aim of exploring the lava tubes on Mars for signs of ancient alien life.
START MAPPING THE INACCESSIBLE