Emesent's 1st Year Anniversary Celebration
Emesent's 1st Year Anniversary Celebration
On Wednesday the 13th of November, the entire Emesent Team welcomed esteemed partners, customers, distributors, suppliers and industry leaders to jointly celebrate and officially mark the company's first year in business. Emesent's success has only been possible thanks to these amazing people.
Guests arrived early and were greeted by the friendly Emesent staff – no better way to start the day with a freshly brewed coffee and banter. Lorraine Elsmore, Emesent's Marketing Director, kicked off the day with a warm welcome to all and without much ado called upon Stefan Hrabar, CEO and Farid Kendoul, CTO for the opening remarks.
Next up was Evan Jones, Principal Geotechnical Engineer at BHP and PhD candidate, who, with his talk on "Hovermap Implementation in Underground Mines", blew everyone away with a clear explanation of how Hovermap has changed the landscape for mapping in dangerous environments. "Mapping a stope or a drift or any other part of a mine with a drone and Hovermap keeps people out of harm's way and affords the mining company huge wins; imagine obtaining insights from areas of the mine that no one knew anything about because it simply could not be reached? This was impossible before Hovermap came along. Visibility and insights enable accurate decision making", concluded Evan.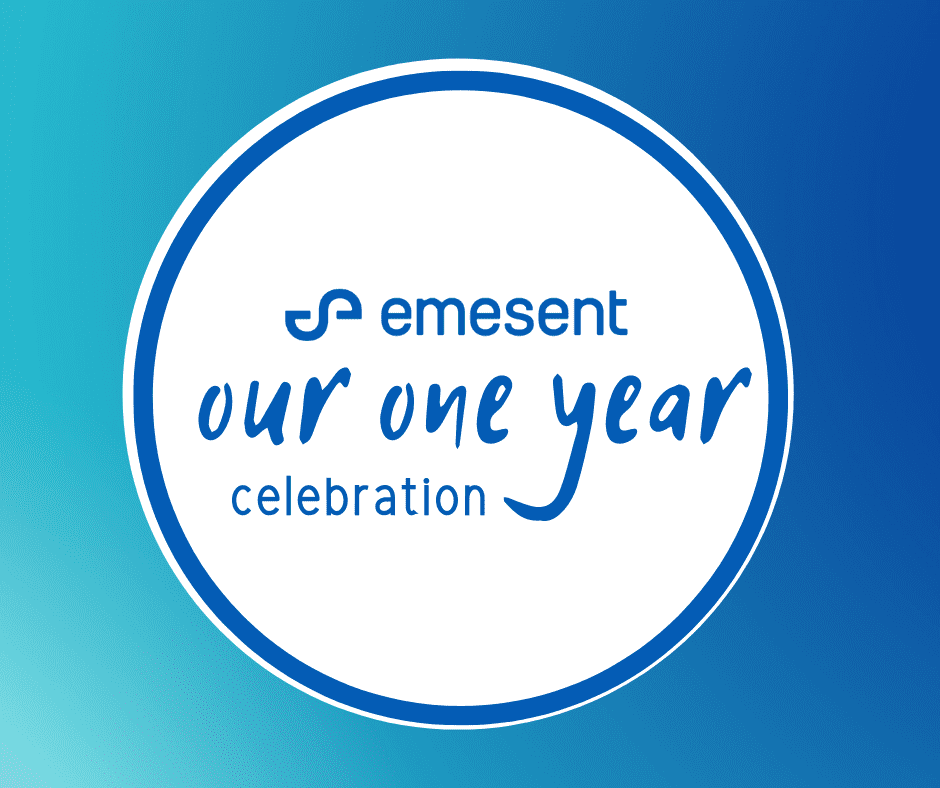 Next up was Fred Pauling who talked about Emesent's begginings as a CSIRO Data 61 project; from more than 5 years of R&D through to building and proving the concept of a product that was commercially viable.
Our one-year anniversary is a timely opportunity to reflect on the company's beginnings and what the team has accomplished in a very short space of time. Our flagship product, the award winning Hovermap, boasts an impressive track record of ovcr 2000 autonomous flights, and, in mining alone, Hovermap has mapped hundreds of stopes and more than 200 kilometres of drifts in over 60 mine sites.
Emesent has successfully expanded its footprint: we have customers and distributors on all continents of the globe; we pride ourselves on forging positive relationships across borders and industries.
While we may be a young company, we're already flying high, and it really is just the beginning. The team's innovative nature means we are consistently pushing the boundaries. We are inventors and pioneers who are not afraid to stand out from the crowd. Every day we come to work with a desire and passion to challenge the status quo. Emesent's cutting-edge drone autonomy technology is revolutionising the infrastructure and mining industries and our steadfast commitment to achieving efficiency, safety and operational improvements across these sectors has allowed us to become global leaders in our area of expertise.
The growth and success we've achieved to date certainly wouldn't have been possible without our passionate team members who have shaped Emesent into the company it is today. It's safe to say that the Emesent Team has grown remarkably swiftly, from a group of 7 staff spinning out from CSIRO to a workforce of 25 unique individuals with highest distinctions in their area of expertise. Emesent's founding members and senior management team continue to demonstrate remarkable leadership and unwavering commitment to Emesent's vision.
START MAPPING THE INACCESSIBLE