How Emesent is pioneering autonomous drone flight operated from half a world away
Australian data analytics and drone autonomy start-up Emesent is writing its way into the record books with a series of remotely operated autonomous drone flights which promise to drive revolutionary change in the heavy industry space.
The most recent of these missions took place on August 28 at an Ultra-Deep Canadian Hard-Rock Mine. Emesent's Hovermap LiDAR payload enabled an autonomous drone flight underground, operated all the way from Australia.
For this proof-of-concept, the drone was piloted from take-off to landing by Emesent founders Dr Stefan Hrabar and Dr Farid Kendoul using standard online remote collaboration tools and Emesent's recently launched Autonomy Level 2 (AL2) feature. Local support was provided by Unmanned Aerial Services Inc, Emesent's partner in the region. This collaboration resulted in the world's first remotely-operated autonomous drone flight in an underground mine.
The Canadian mission was the second such foray for Emesent. In early August, the award-winning technology developer conducted a remote demonstration for a South African company. Operators in South Africa were able to fly a Hovermap-enabled drone down a tunnel in Queensland, some 11,000 kilometers away.
Designed to collect critical data in challenging areas, Hovermap uses LiDAR data and advanced algorithms to provide autonomous navigation even where GPS is not available. Hovermap's Autonomy Level 2 allows the system to be operated by placing smart waypoints in a 3D map which is streamed live from the unit. Once a waypoint is set, Hovermap self-navigates to the waypoint, exploring and avoiding collisions along the way. This high level of autonomy allows the system to be operated remotely despite connectivity delays or variable internet speeds.

Dr Hrabar said robust, remotely controlled autonomous technology had the potential to deliver extraordinary benefits to heavy industry operators, particularly during times of disaster and business disruption.
"Traditionally, mining and industrial companies have mobilized people for field tasks, such as reconnaissance, reporting and maintenance, but the current COVID crisis has demonstrated the vulnerability of that modus operandi," Dr Hrabar said.
"The lockdowns which have been imposed around the world have made it impossible for many mine sites and other remote facilities to continue operating in their normal way."
"Technologies like Hovermap could enable many more activities to be conducted remotely, in industries like mining, energy and construction, Dr Hrabar said.
"Companies in the vanguard of this digital revolution are likely to enjoy a significant competitive advantage, as a result of improved productivity and equipment utilization, reduced costs and increased mine worker safety," he said.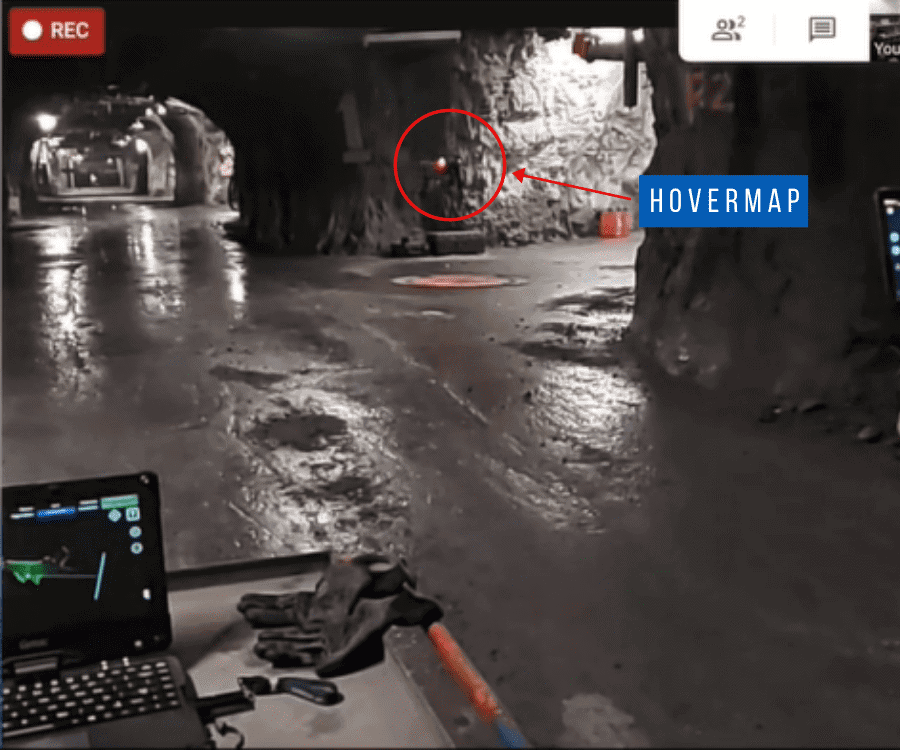 "Eventually these technologies will drive the creation of intelligent digital twins, which are created and updated continuously through the deployment of autonomous systems."
The Mine Technical Services Manager at the Canadian mine said
"We pride ourselves on the adoption of new technology such as Hovermap. We're already using the system to map our stopes and were excited to be part of this remote operation trial. We've already invested in establishing a high-speed network underground to future-proof the mine and allow applications like this."
"It was incredible to see a drone being flown in our underground mine all the way from Australia. This shows that remote operation is possible, and in future we'll be able to operate the drone underground from anywhere we work – whether it be a distant location underground, from the engineering office on surface, or remote offices offsite. Many of us assumed this would still be science fiction for a while, but we've been proven wrong by Emesent."
Dr Kendoul said Emesent's dedicated technical team would continue to push the bounds of autonomous flight.
"Our focus has always been on creating intelligent technology which delivers tangible benefits to the mining, construction and emergency response sectors and we don't intend to rest on our laurels," he said.
START MAPPING THE INACCESSIBLE