Hovermap wins Innovative Mining Solution Award
We're proud to have been announced the winner of the Innovative Mining Solution award in the 2020 Prospect Awards. The awards are held by Australian Mining and recognize Australia's outstanding mining and minerals processing achievements.
Prospect Awards judge and CSIRO Mineral Resources' principal research engineer, Mark Dunn, said that the quality of nominations was high, given the disrupted environment of COVID-19.
"The nominees should all be commended on their efforts to improve the safety, sustainability, and productivity of the Australian mining industry," he said.
Hovermap, an autonomous and versatile LiDAR scanner, was recognized for the following achievements.
Reduced costs through rapid scanning (minutes instead of hours) and Hovermap's autonomous flight that allows anyone, with a few hours of training, to map an area
Improved total cost of ownership through its low operating costs and multiple scanning methods and applications (walk, drive, fly or hoist Hovermap to map anywhere)
Reduced delays to production schedules through rapid scanning (minutes instead of hours) and having accurate, high-quality data of any part of the mine
Improved mine safety through having accurate, high-quality data of any part of the mine
Enhanced visibility into environments, with real-time point clouds, delivered directly to the pilot's tablet, enabling them to interact with and explore the scan data as they operate the drone
Improved personnel safety through keeping workers away from danger while scanning
Ease of operation due to its Tap-to-Fly and Guided Exploration functionalities and various failsafes, including automatic return to home on low battery
One of the Prospect Awards judges, Clytie Dangar of Austmine, shared one of the reasons Hovermap was a winner,
"The safety payoffs are immense and it clearly is solving a complex customer need."
Hovermap was also recognized for bringing customers real-life savings, including a damage survey after only a few days following a seismic event and fall of ground at LKAB's Kiruna mine in Sweden.
The damage was catastrophic and capturing data of the damaged areas across the mine site with a Cavity Monitoring System or terrestrial scanner would have taken weeks, or maybe months while placing surveyors within unprotected ground. With Hovermap, LKAB had accurate data of the damaged areas within a few days after being able to enter the mine and were able to start planning remedial works within weeks of the event. Get the full story in the case study.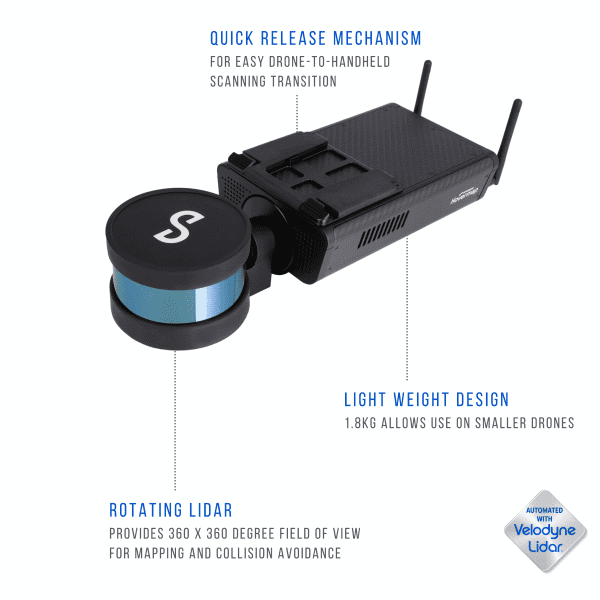 START MAPPING THE INACCESSIBLE