Emesent to Advance Autonomous Research with Australian Research Council Hub
Emesent is part of a new research Hub bringing together academic researchers and industry partners to transform the way Australia manages infrastructure assets, like bridges, towers, and subsea pipelines. Known as the ARC Research Hub in Intelligent Robotic Systems for Real-Time Asset Management, the collaboration is about to get started with a series of workshops.
The team behind the Hub recognized that many Australian infrastructure assets, both terrestrial and offshore, were approaching the end of their lifespan. Their complex structures and sometimes difficult-to-reach locations, as well as their vast scale and the challenging conditions of their environment, make manual inspections and repairs difficult, or in some cases impossible, and lead to considerable costs and safety risks.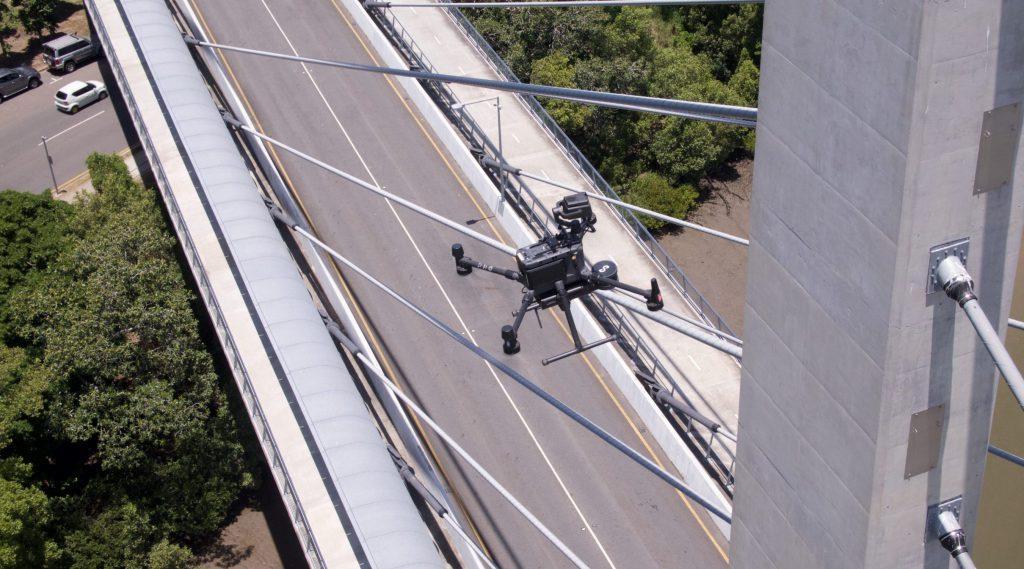 With this in mind, the Hub's objective is to develop new solutions which will help to manage Australia's assets, increasing their longevity, through teams of intelligent robotic systems tightly integrated with a digital twin.
This objective aligns closely with Emesent's vision to be the world leaders in autonomous insights for the most challenging and seemingly unreachable places on Earth and beyond.
"We're excited to be part of the ARC Hub, to be securing the safety of personnel, and driving greater efficiencies in a range of industries. With a strong focus on research, we're also looking forward to contributing to the advancement of research for robotics and autonomous exploration," said Emesent CEO and Co Founder Dr Stefan Hrabar.
The digital twin will contain real-time information throughout the asset's life cycle, which will be used to optimize the utility of assets through understanding ongoing changes, such as corrosion or fatigue. The robots will be used to monitor the asset, provide updated information to the digital twin, and perform maintenance tasks.
To realize this vision, the Hub aims to advance the fundamental science of robotics in three core areas: planning and control, sensing and perception, and mapping and insight. Specifically, they intend to further develop these four areas of robot capabilities:
Mission and Motion Planning for Information Gathering,
Navigation and Control in Challenging Conditions,
Active Perception and Manipulation, and
Spatio-Temporal Mapping and Change Detection.
Leading the team is the internationally recognized expert in control systems and machine learning for robots, Associate Professor Ian Manchester, Director of Research at the Australian Centre for Field Robotics, and Hub Director. Acting as the Strategic Advisor for the Hub is Distinguished Professor Peter Corke, who also sits on the Emesent Advisory Board and has over 30 years experience in robotics research.
The world-leading academic team working with them come from the Queensland University of Technology, the Australian National University, and the Australian Centre for Field Robotics, and Sydney Institute for Robotics and Intelligent Systems, both housed at the University of Sydney. The Hub will support up to eight postdoctoral research fellows and up to 12 PhD stipends. Members of the academic team will be embedded within the industry partners, providing access to real-world assets and difficult environments.
"I'm delighted to be appointed the Director of the Australian Centre for Field Robotics: it is a fantastic center with many creative and insightful students and staff, with a long history of both deep fundamental research and real-world impact," said Professor Ian Manchester at the University of Sydney and Hub Director.
Emesent's expertise in GPS-denied autonomy and LiDAR mapping will allow it to contribute to all four focus areas of the Hub, working closely with the ten other industry partners also participating.
"We've recently been able to demonstrate our ability to operate a heterogeneous team of robots at the US Defence Advanced Research Project Agency's Subterranean Challenge, where Emesent was part of the team that came a close second," said Stefan.
"We are looking forward to working with the academic teams and other industry partners to shape the future of autonomous asset inspection in Australia."
The ARC Research Hub in Intelligent Robotic Systems for Real-Time Asset Management is one of eight Hubs that the Australian Government's Australian Research Council is funding over the next five years.
For more information, visit the Australian Research Council website.
START MAPPING THE INACCESSIBLE