Emesent Top Mining Safety Solutions Provider for Revolutionizing Mine Surveillance
Emesent has been named Top Mining Safety Solutions Provider 2022 by the Metals and Mining Review for the autonomous, mobile scanning solution – Hovermap ST.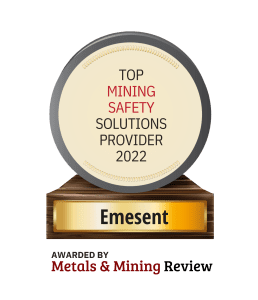 Combining collision avoidance and autonomous flight technologies, Hovermap ST mounted to a drone is able to fly into inaccessible areas, such as stopes, drawpoints, and orepasses, to capture shadowless, high quality point cloud data that is sent to the surveyor in real-time while they remain safe, away from the brow.
The Metals and Mining Review highlighted Hovermap ST's ability to add a higher level of automation and safety to mine surveillance as a reason for naming it top safety solution. Capturing data that was previously inaccessible provides mine operators with better visibility of hazards for mitigation before an issue arises.
The data captured by Hovermap ST can also increase mine safety by providing improved awareness of ground and structural conditions.
"Hovermap allows mine operators to maintain an accurate, up-to-date picture of what's happening in their mines and can provide improved ground support design to better manage the geotechnical risk," said Connor Bouch, Business Development Manager at Emesent.
"Being able to track deformation over time can help planners and ground control engineers determine whether drifts and tunnels need to be reinforced or abandoned for an alternate and safer means of access."
The unrivaled speed when capturing high quality data was mentioned by the Metals and Mining Review as another outstanding feature. This allows surveyors to spend less time underground and still get the required information, minimizing the surveyor's risk. Surveyors using Hovermap's remote autonomy capabilities can capture data of voids and drifts up to 75% faster than using previous methods.
Hovermap ST's versatility was another feature called out by The Metals & Mining Review. Designed with plug-and-play versatility, Hovermap ST can be switched between handheld scanning, using CMS pole mounted, backpack, vehicle or mining equipment mount, drone mount, or mounted on a Boston Dynamics Spot. The one unit can create a complete Digital Twin of the mine.
"Our mission is to make autonomous mapping technology easy to use, especially in inaccessible and hazardous environments, reducing the chances of survey errors and unexpected accidents," Emesent Technical Specialist Justin Simkins was quoted in the Metals & Mining Review article.
START MAPPING THE INACCESSIBLE