Emesent receives top CSIRO award for contribution to Public Safety
Safety benefits to search and rescue scenarios provided by Emesent's Hovermap drone autonomy have been recognized with Australia's Commonwealth Scientific and Industrial Research Organisation's (CSIRO) highest science award, The Chair's Medal for Science and Engineering Excellence. The honor was awarded to Team CSIRO Data61, composed of members from CSIRO's Data61, Emesent, and Georgia Institute of Technology. Together the team demonstrated how robotics technology can speed up operations where time is crucial to saving lives and helping keep personnel out of harm's way.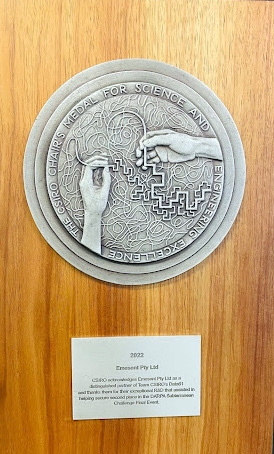 The CSIRO Awards are held annually to celebrate the outstanding achievements of CSIRO teams and partners, honoring innovative solutions to industry, society, and the environment.
The team was chosen for pushing the boundaries of autonomous robotic technology to win second place in the globally recognized DARPA SubT Challenge Final Event, held in Kentucky, USA.
Held by DARPA (the US Defence Advanced Research Project Agency), the SubT (Subterranean) Challenge was established to push the boundaries of autonomous exploration and mapping in challenging subterranean environments without GPS or communication infrastructure, with its aim to foster and accelerate pioneering research. Teams were required to autonomously deploy drones and robots beyond line of sight and standard communication networks to gain situational awareness without putting humans at risk.
Having a team of ground and aerial robots that can collaborate to achieve complex missions autonomously and provide critical situational awareness data quickly is a significant advantage in keeping rescue personnel safe as well as saving lives and helping people," said Dr Farid Kendoul, Emesent CTO and Cofounder.
The courses were designed to recreate real-world scenarios typically encountered during search and rescue missions. The teams were required to send their robots on searches for artifacts such as human survivors, mobile phones, and backpacks.
"This award is testament to Emesent's unique capability for developing and deploying autonomous drone technology in challenging GPS-denied environments.", said Dr Stefan Hrabar, Emesent CEO and Cofounder. "Mining companies worldwide have been using our Hovermap solution for years to gather valuable information from previously inaccessible areas while keeping personnel safe. This has huge potential and benefits across numerous industries, including public safety, as demonstrated by the Sub-T Challenge."
The SubT Challenge was run over three years, and the team comprising Emesent, CSIRO's Data61, and Georgia Tech successfully completed all sections of the challenge with a multi‑robot solution that allowed seamless scaling‑up of robot teams to explore autonomously and perform tasks in dangerous and unknown environments.
In the final event of the SubT Challenge, team CSIRO Data61 tied for the top score and took second place after a nail-biting tie-breaker. DARPA also recognized the team for having the most accurate 3D map, which aligned perfectly with the reference map produced by surveyors. The robot-generated map was created in one hour versus over 100 person-hours for the reference map.
Dr Hrabar said Emesent is continuing to further invest in the autonomous drone technology that has contributed to what the medal citation referred to as a "momentous achievement [that] has cemented Australia's robotics capabilities on the world stage."
START MAPPING THE INACCESSIBLE