How an Autonomous Drone Mapped a Complete As-Built of a Bridge – Including the Underside
About 15 miles inland from Seattle, down a utility road in timber country, is a steel bridge that was seemingly impossible for autonomous drone operators to capture in a complete as-built scan.
The City of Seattle, owners of the bridge and land, have been reviewing different LiDAR scanning systems to assist with maintaining their properties and the assets on them. They chose this bridge for the product demonstrations as it is one of their more difficult assets to capture for as-built scanning, giving demonstrators every opportunity to showcase their capabilities.
Spanning a gorge, the grated deck and pipeline bridge is about 100 feet (30 meters) long and, at its highest, sits approximately 150 feet (50 meters) high over steep banks, tall trees, and a running river.
After eight demonstrations, the Seattle City team was still looking for the solution, as all previous attempts had failed to capture a scan of this bridge from all angles, the demonstration vendors claiming the environment was too difficult. The steel bridge might interfere with the drone, they weren't willing to fly under the bridge, or they would just not take the risk of damaging their equipment. Then along came Ryan McNicholas and Adam Hargraves from Emesent with Hovermap.
Using Hovermap's Pilot Assist mode, which provides omnidirectional Collision Avoidance, GPS-denied flight capability, and stability control, Adam was able to fly an entire revolution of the bridge. The grated bridge deck allowed them to keep visual contact with the drone at all times in accordance with FAA (US Federal Aviation Administration) regulations.
Another challenge was provided by an overhanging tree under the bridge that was not visible during a visual inspection. During the flight, Hovermap's Obstacle Detection identified the tree, and the Collision Avoidance feature took control of the drone and changed the flight path to navigate around the tree safely.
Adding Hovermap to a drone creates an autonomous drone and a safety bubble, protecting the equipment and the asset and providing the confidence and stability for close flight.
The complete five-minute scan of the bridge provides the City of Seattle team with a full 3D image of the bridge, including the underside of the deck, and will allow them to take measurements and produce a BIM model. The scan will also provide a baseline for comparison with future scans for condition monitoring, structural integrity checks, and identifying areas of maintenance.
See how Hovermap is used for complete bridge inspections by GeoZICHT, a geodetic consultancy in the Netherlands, in this case study.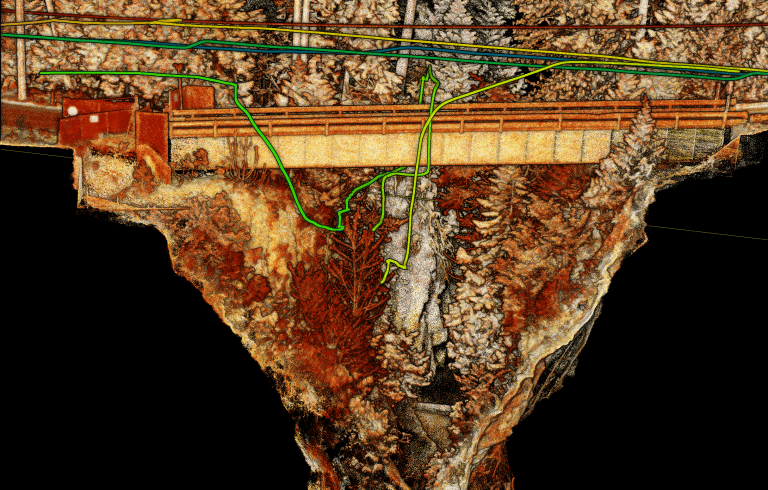 START MAPPING THE INACCESSIBLE